The International Energy Agency (IEA) said that despite soaring commodity prices and rising manufacturing costs, global solar photovoltaic development this year is still expected to increase by 17%.
In most countries around the world, utility solar projects provide the lowest cost of new electricity, especially in the case of rising natural gas prices. IEA predicts that in 2021, 156.1GW of photovoltaic installations will be added globally.
This represents a new record. Even so, this figure is still lower than other development and installation expectations. The research institute BloombergNEF predicts that 191GW of new solar energy will be installed this year.
In contrast, IHS Market's projected solar installed capacity in 2021 is 171GW. The medium development plan proposed by the trade association SolarPower Europe is 163.2GW.
The IEA stated that the COP26 climate change conference announced a more ambitious clean energy goal. With the strong support of government policies and clean energy goals, solar photovoltaic "remains the source of renewable energy power growth."
According to the report, by 2026, renewable energy will account for nearly 95% of the global power capacity increase, and solar photovoltaic alone will account for more than half. The total installed photovoltaic capacity will increase from about 894GW this year to 1.826TW in 2026.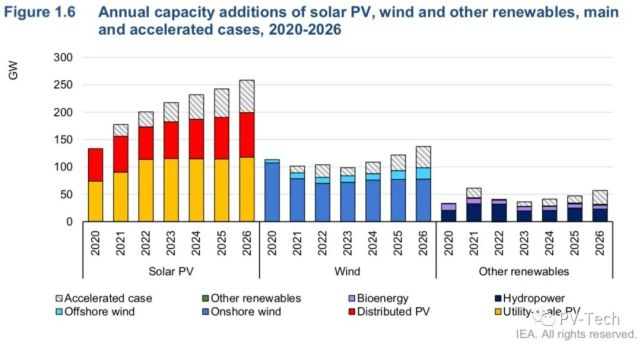 Under the premise of accelerated development, global solar photovoltaic annual new capacity will continue to grow, reaching nearly 260 GW by 2026. Key markets such as China, Europe, the United States, and India have the largest growth rates, while emerging markets such as sub-Saharan Africa and the Middle East also show considerable growth potential.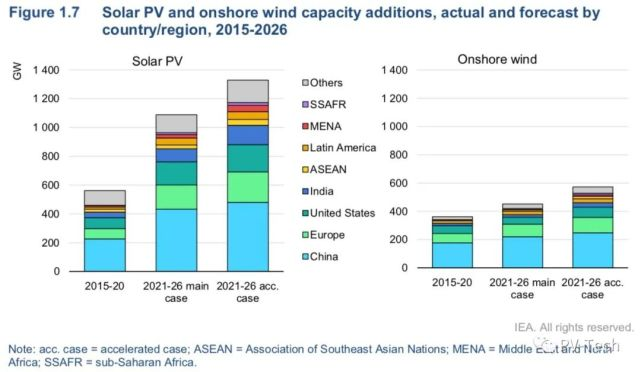 Fatih Birol, Executive Director of IEA, said that this year's increase in renewable energy has set a record, which shows that another sign is emerging in the new global energy economy.
"The high commodity and energy prices we see today pose new challenges to the renewable energy industry, but the rising prices of fossil fuels also make renewable energy more competitive."
IEA also proposed an accelerated development plan. This scheme assumes that the government has solved the problems of permitting, grid integration, and lack of remuneration, and provides targeted policy support for flexibility. According to this plan, 177.5GW of solar photovoltaic will be deployed globally this year.
Although solar energy is on the rise, new renewable energy projects are expected to be far less than the number needed to achieve the global net-zero emission targets by the middle of this century. According to this goal, between 2021 and 2026, the average growth rates of renewable energy power generation will almost double that of the main situation described in the report.
The flagship report of the World Energy Outlook released by the IEA in October shows that in the IEA's 2050 net zero emission roadmap, the global average annual increase in solar photovoltaics from 2020 to 2030 will reach 422GW.
The price increase of silicon, steel, aluminum, and copper is an unfavorable factor for commodity prices
The IEA stated in the latest report that at present, rising commodity prices have put upward pressure on investment costs. The supplies of raw materials and rising electricity prices in some markets have added additional challenges for solar photovoltaic manufacturers in the short term.
Since the beginning of 2020, the price of photovoltaic-grade polysilicon has more than quadrupled, steel has increased by 50%, aluminum has increased by 80%, and copper has increased by 60%. In addition, freight rates from China to Europe and North America have also risen sharply, in some cases by ten times.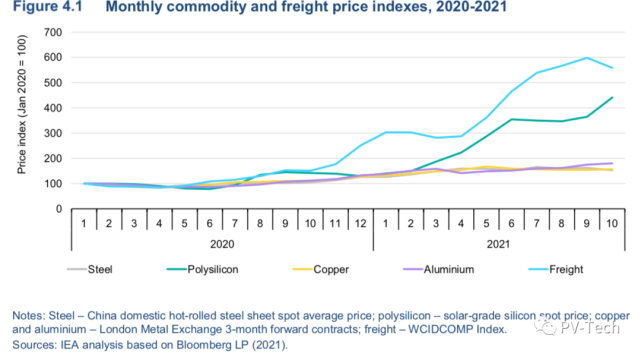 IEA estimates that commodity and freight costs account for approximately 15% of the total cost of utility solar photovoltaic investment. According to the comparison of average commodity prices from 2019 to 2021, the overall investment cost of utility photovoltaic power plants may increase by about 25%.
The rise in commodities and freight has affected the contract prices of government tenders, and markets such as Spain and India have seen higher contract prices this year. The IEA stated that the rising price of equipment required for photovoltaic power plants poses a challenge to developers who have won the bidding and anticipate continued decline in module costs.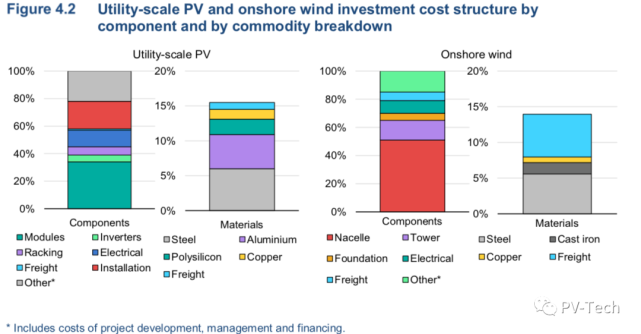 According to the IEA, from 2019 to 2021, about 100GW of solar photovoltaic and wind energy projects that have won bids but have not yet been put into operation are facing the risk of commodity price shocks, which may delay the project's commissioning.
Despite this, the impact of rising commodity prices on the demand for new capacity is limited. Governments have not adopted major policy changes to cancel tenders, and corporate purchases are breaking another year-on-year record.
Although there is a risk of long-term high commodity prices, the IEA stated that if commodity and freight prices ease in the near future, the downward trend in the cost of solar photovoltaic will continue, and the long-term impact on this technology demand may be it will also be very small.
---
Post time: Dec-07-2021